Does your business rely on Kings Canyon & Sequoia tourism?
Could you make more sales if every single one of the customers who stay at Gena's Sierra Inn and eat at our restaurant saw your business advertisement?
Advertise at Gena's Sierra Inn and reach the pre-qualified, onsite audience you actually want to target to convert our customers into YOUR customers.
The right audience, the right time, the right place, the right state of mind.
Last year Gena's Sierra Inn booked 1800+ rooms for over 2400+ nights and conducted 5100+ transactions at our restaurant.
​
Every one of our guests had one thing in common:
They were searching for an unforgettable experience during their vacation to Kings Canyon and Sequoia!
Why shouldn't your business experience be the one our guests find? Join our targeted advertising platform and we'll make sure every one of our guests are introduced to you.
A Subscription to the Tourist Ad Campaign Gives You Five Killer Ways to Reach Our Pre-Qualified Motel & Restaurant Audience
Sierra Inn booked over 1880 parties of guests. They all want to know what to do in our area.
​
When they book and upon arrival, we'll send them an email containing your ad.
Our rooms hosted a combined 2430 nights. Smart TVs in each showed ads when not watching shows.
​
Run your ads on our TVs inside our rooms.
The restaurant served over 5100 transactions. Each person who ate with us watched our TV ad slideshow.
​
Run your ads on our slideshows.
GenasSierraInn.com had over 8300 visitors last year, all looking for a unique Kings Canyon and Sequoia experience.
​
Get your business on our list.
Add your business flyers to our "Local Attractions" self-service kiosk.
​
On site guests can take flyers for local experiences like yours.
When a guest books with us, they want to know what they can do that is unique to our region. Since they have already booked with us, we know their email address and our motel software automatically sends them an email letting them know what is available in our region.
Right now that list is restricted to hiking trails, geographic landmarks and other things of historic interest in our National Parks. But what if your tourist related business could be included in that direct email? Get connected with these 1880+ booked groups and let them know why they should also check out your business!
Captured Restaurant & Inn Audience
In addition, your ad will run on our TV slideshows which are located in our restaurant dining room. Every guest who sits down to eat watches the ads on our TV while they wait for their food. Guests often ask us about a product we advertise on TV. In addition, you can stock your business flyers in our "Local Attractions" self-service kiosk where guests can find the awesome experience they are looking for. Reach an additional 5100+ groups who eat our restaurant (Square Sales Report).
​
If that's not enough exposure, all of our Smart TV's run the same slide show as a screen saver, which means that guests who are relaxing in their room, will also see our ads when they are are not watching a show (Tokeet Property Management Report). We had more than 2430+ nights booked with travelers who want to know what's available.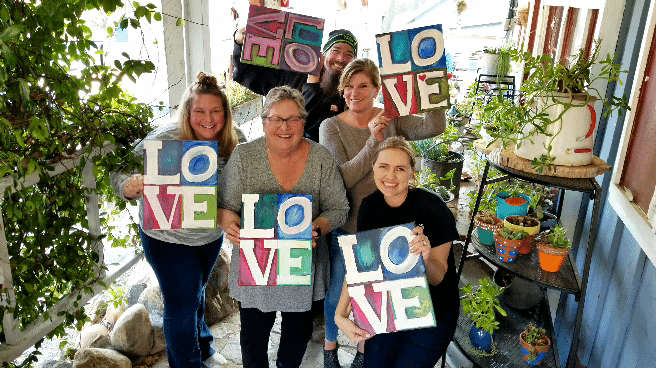 We'll even include your advertisement on our website's "Things To Do" list. Last year our website traffic report saw 8300+ unique website visitors (Wix Website Traffic report). Your ad will be on our recommendation page, so you can benefit from traffic that is actively looking to visit Kings Canyon and Sequoia to find memorable local experiences.
​
Pitch your experience to an already receptive audience!
No Such Thing As Off Season!
Even if your business is restricted to operating during the tourist season, this campaign will net you sales throughout the year as long as you have an 24/7/365 online sales channel! (Don't have a way to sell/book online, contact me.)
67% of high-income travelers say that they'd rather spend money on experiences than a better hotel room.

Millennials are much more focused on having trips that focus on experiences. They want to see and do unique things in unique locations.

While sites like Booking.com and TripAdvisor get millions of visits per month, two-thirds of online travel booking sales are made directly from the hotel's own website.

There is a group of consumers who have their trip booked months in advance. These consumers will spend the 12 weeks leading up to the trip searching for experiences.

People aged 55+ book more than four months in advance.

By 2023, 700 Million Guests Will Book Hotel Rooms Online.
Just because it's your business's off season doesn't mean you still can't sell! Join our campaign and reach the hundreds of guests who book with us during the months of November through March for arrival dates that land during the regular season.